PART 1: American Beat '84 – The Fleshtones; Theme From "The Vindicators" – The Fleshtones; It's Cold Outside – The Choir; Kids in America – Kim Wilde; Revolutionary Ways – Eric Hisaw; Jet Pack Nightmare – James Williamson & Deniz Tek; White Honey – Graham Parker; Hold Back the Night – Graham Parker; Break Them Down – Graham Parker; Don't Let It Break You Down – Graham Parker; Don't Drop Out – Dolly Parton; Under Pressure – Karen O & Willie Nelson; Closed-Circuit TV Romance – The False Positives; Rebel Kind – Jim Basnight; You Make Me Happy – The Proclaimers
PART 2: Leaves of Grass: Prelude – Rob Nelson Feat. Anne Castellano; Forever – Vicky Tafoya & the Big Beat; My Vow to You – Vicky Tafoya & the Big Beat; Drip a Drop – The Flat Five; Look at the Birdy – The Flat Five; Café Emery Hill – Spygenius; Carry Me (Single Mix) – The Brothers Steve; Keep It Quiet – The Speed of Sound; That Time Is Now – Librarians With Hickeys; N.S.A. – Vegas With Randolph; Last Hurrah – EZ Tiger; Strangers – Jason Berk
PART 3: Strangers in Your Soul – The Wild Kindness; Show Me How – Vegas With Randolph; End of the Line – Jason Berk; Walkin' Through This World – Cidny Bullens; The Gender Line – Cidny Bullens; Call Me by My Name – Cidny Bullens; Innocence – Namoli Brennet; All You Refugees – Namoli Brennet; Sign of the Times – Namoli Brennet; Transgender Dysphoria Blues – Against Me!; True Trans Soul Rebel – Against Me!
PART 4: Be Thankful for What You Got – William DeVaughan; A New Day – The Notations; Thank You Lord – Bob Marley; Thank God He Came – Arthur Alexander; Thank God – Hank Williams; Thank You – The Remains; Searching for a New Day – Sharon Jones & the Dap-Kings; A New Day Begins – The Parliaments; It's a New Day – Skull Snaps; A New Day (live) – James Brown; New Dawn of an Old Day – Vicky & the Vengents; Alice's Restaurant Massacree – Arlo Guthrie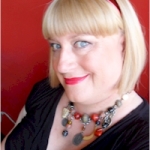 … is the hostess of Franorama 2.0, most Thursdays from 1-4 p.m. Eastern Time on Cygnus Radio. So what's a genre? I just throw everything against a wall and see what sticks. Rock'n'roll, garage, punk, soul (especially Northern), rockabilly, real country, cheesy goofball stuff – no matter what generation, if it has a heart and soul, it has a home here.