PART 1: American Beat '84 – The Fleshtones; Race for the Prize – The Flaming Lips; I Got the Power – The Masqueraders; I'm Not Your Slave – The Godfathers; Wild & Free – The Godfathers; B.A. Baby – The Middlenight Men; To Live or Live Not – Duncan Reid & the Big Heads; Out of My Mind – Craig Bell; Contagious – Sour Ops; I Gotta Dance to Keep From Crying – Smokey Robinson & the Miracles; No Flag – Elvis Costello; American Crisis – Bob Mould; The President – Robyn Hitchcock w/Emma Swift; Manic Monday – Billie Joe Armstrong w/Susanna Hoffs; You Can't Put Your Arms Around a Memory – Billie Joe Armstrong
PART 2: I Think We're Alone Now – Billie Joe Armstrong; That Thing You Do – Billie Joe Armstrong; Kids in America – Billie Joe Armstrong; Not That Way Anymore – Billie Joe Armstrong; Another True Story – Spygenius; Blues Comin' On – Dion w/Joe Bonamassa; Uptown Number 7 – Dion w/Brian Setzer; I Got Nothin' – Dion w/Van Morrison & Joe Louis Walker; Bam Bang Boom – Dion w/Billy Gibbons; Send Him Back – The Pointer Sisters; Yes We Can Can – The Pointer Sisters; Fairytale – The Pointer Sisters; How Long (Betcha' Got a Chick on the Side) – The Pointer Sisters
PART 3: Heaven Must Have Sent You – Bonnie Pointer; Funny Funny – Sweet; Fox on the Run – Sweet; Ballroom Blitz – Sweet; Keep on Pushing – The Impressions; A Change Is Gonna Come – Sam Cooke; For What It's Worth – Billy Porter; Above the Law – The O'Jays; Baltimore – Prince; You Talk Too Much – Joe Jones; You Talk Too Much – Run-D.M.C.
PART 4: Black Steel in the Hour of Chaos – Public Enemy; FDT (Fuck Donald Trump) – YG feat. Nipsey Hussle; Redemption Song – Bob Marley; Broken Sides – Bob Perry & Edward Rogers; Time Is Not on Our Side – Steve Earle & the Dukes; It's About Blood – Steve Earle & the Dukes; The President Can't Read – Amy Rigby; Get Off the Stage – Chuck Prophet; I'm Gonna Change the World – The Animals; He'd Send in the Army (Live) – Gang of Four; Boys Will Be Boys – The Reducersl Chemical Warfare – Dead Kennedys; People Have the Power – Patti Smith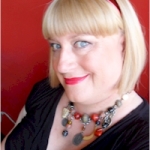 … is the hostess of Franorama 2.0, most Thursdays from 1-4 p.m. Eastern Time on Cygnus Radio. So what's a genre? I just throw everything against a wall and see what sticks. Rock'n'roll, garage, punk, soul (especially Northern), rockabilly, real country, cheesy goofball stuff – no matter what generation, if it has a heart and soul, it has a home here.