#MonsterPumpkinHeaviness is volume 6 of MPH: Music Philanthropy and History in the Mosh Pit Hell of Metal Punk and Hardcore on Cygnus Radio. The Allhallowtide/Samhain inspired episode manipulates people's heads Friday 23 October beginning 22:00 USEDT (10p), from the Isle of Misfit toys, with the doormouse, dmf.
Tune in to #MonsterPumpkinHeaviness sanguine songs of flesh, blood and guts. Nasty new numbers by Hemotoxin, Exocrine, Pyrrhic, Ensireal. Classic cranial crushers by Darkest Hour, the Crown, Skeletonwitch, Sodom, Conducting from the Grave, Exmortus, Dehydrated, Cryptopsy, Grave, Death, Agalloch, In Vain, Textures. And, rippin requests for Anthrax, Slayer, Gorod, Carcass, Edge of Sanity. Plus much more.
Explore a bit about the legends of bodies and blood surrounding the Allhallowtide and Samhain seasons. Then, learn about Spirit Halloween's Spirt of Children NFP to make hospital stays for children less scary and more fun while you get your spooky, sanguine mosh on at home!
MPH is making poseurs hip on your fav socnet, so use @MPHnoise to follow along and bring you best moves for the Friday Night Mosh on Cygnus Radio @cygnusradio!
Anthrax "Blood" Persistence of Time 
Hemotoxin "Corrupted Flesh" Restructure the Molded Mind
Darkest Hour "the Flesh & the Flowers of Death" Godless Prophets 
the Crown "Rise in Blood" Cobra Speed Venom
Skeletonwitch "Blade on the Flesh, Blood on my Hands" Serpents Unleashed
Sodom "Nothing Counts More Than Blood" In War and Pieces
Slayer "Raining Blood" Reign in Blood
Exocrine "Abyssal Flesh" Maelstrom
Conducting From the Grave "When Two Blood Types Collide" Trials of the Forsaken
Exmortus "Immortality Made Flesh" Slave to the Sword 
Dehydrated "Blood & Suffering" Duality of Existence 
Gorod "Tribute in Blood" a Perfect Absolution 
Pyrrhic "Blood Eagle" the Shape of Death to Come 
Cryptopsy "Cold Hate, Warm Blood" Whisper Supremacy 
Grave "Extremely Rotten Flesh" Into the Grave
Death "Screaming Bloody Gore" SBC
Carcass "Forensic Cynicism, Sanguine Article" Necroticism
Ensireal "Flesh & Stones" the History of the Golden Henchman
Agalloch "Bloodbirds" Ashes Against the Grain   
In Vain "Blood We Shed" Currents 
Textures "Sanguine Draws the Oath" Dualism
Edge of Sanity "Bood-colored" Purgatory Afterglow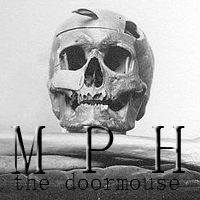 MPH is music, philanthropy and history in the mosh pit hell of metal, punk and hardcore. We are manipulating people's heads and making poseurs hip with a caustic concoction of the mouse presents heavy coming to you from the Isle of Misfit Toys.   Come for to mosh. Experience the pedagogy. Then, do your civic homework.  Conducted weekly by the doormouse, dmf for your melodic, percussive, harmony.