#MarchesPourlHonneur is volume 37 of MPH: Music Philanthropy and History in the Mosh Pit Hell of Metal Punk and Hardcore on Cygnus Radio. Join us once again for our tribute to French Mosh Mastery, tonight, Friday 3 December beginning 22:00 USEDT (10pm nyc), from the Isle of Misfit toys, with the doormouse, dmf.
Tune into #MarchesPourlHonneur to get your francomosh! Allez les mosh avec nasty new numbers by Tagada Jones, Antropofago, the Scalar Process, Fractal Universe, Gojira, plus classic cuts by Eths, Guerilla Poubelle, Tear of a Doll, the Great Divide, Faction S, Birds in Row, Diatro, Raein, Dead Like Me, WAITC, Obsidium, Aeon Patronist, Naamah, Persofone, Catalyst, as well as rippin requests for Exocrine, Gorod, Anomie and more!
Learn more about War of the Second Coalition's Battle of Hohenlinden where the French decisively defeating the Austrians effectively ending the Holy Roman Empire and closing that stage of the war. Then, learn how to preserve and celebrate French heritage with the French-American Cultural Foundation here in North America.
MPH is making poseurs hip on your fav socials, so use @MPHnoise to follow along and bring you best moves for the Friday Night Mosh on Cygnus Radio @cygnusradio tune in direct at http://108.163.245.230:8026/stream
Here's the full playlist:

Eths "Nihil Sine Causa" Ankaa
Tagada Jones "Les 4 Elements" A feu et a sang (2021)
Guerilla Poubelle "demain Il Plait" Il Fait Peindre Le Monde
Tear of a Doll "Idiot" TOAD
the Great Divide "Anyone, Evermore" Linger Over, Linger On
Faction S "Tous Complices" Noyau Dur
Birds in Row "There is Only One Chair" You, Me & the Violence
Diatro "Comme du Papier" Laisser Vivre les Squelettes
Raein "New Day Scenario" Split
Dead Like Me "Absolenscene" DLM
WAITC "Empty Mailbox" Split
Anomie "Pieds et Mains Perces" Discography version
Antropofago "the Protagonist" A Propensity for Violence, Cruelty Enslaved (2021)
Obsidium "Addict to Sorrow" Lesson of Hatred
Aeon Patronist "Through the Paths of Delusion" TTPOD
Naamah "Aphasie" Naamah
Gorod "Hunt to the Weak" Neurotriptics
the Scalar Process "Celestial Existence" Coagulative Matter (2021)
Exocrine "Hayato" Molten Giant
Persefone "No Faced Mindless" Aathma
Catalyst "the Great Purpose of the Lords" TFPOTL
Fractal Universe "A Clockwork Expectation" the Impassable Horizon (2021)
Gojira "New Found" Fortitude (2021)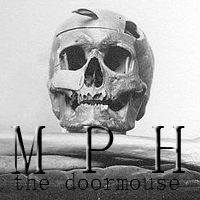 MPH is music, philanthropy and history in the mosh pit hell of metal, punk and hardcore. We are manipulating people's heads and making poseurs hip with a caustic concoction of the mouse presents heavy coming to you from the Isle of Misfit Toys.   Come for to mosh. Experience the pedagogy. Then, do your civic homework.  Conducted weekly by the doormouse, dmf for your melodic, percussive, harmony.