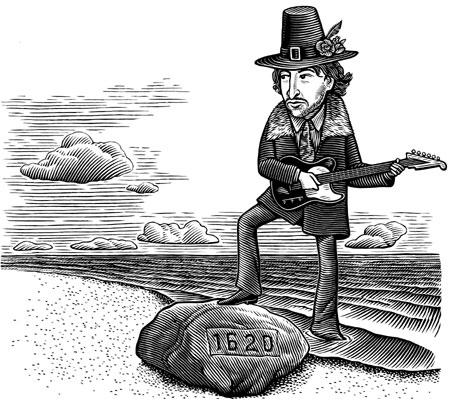 The impending holiday brings "Almost Thanksgiving Day" and a slew of songs spelling out gratitude, from Sam & Dave to Big Star, Talking Heads to Leonard Cohen.
Birthdays were celebrated of Joe Walsh, turning 76 today; as well as Meredith Monk, Norman Greenbaum and Joe Biden— each of whom are turning 81 (One worry regarding the latter isn't necessarily his recent polling, but the fact there have been so few, if any, songs written about him.)
There were generous sets for Dr. John, born this day in 1941, and Duane Allman (1946). And we noted the birthday of a muse to Bob Dylan during their three year relationship, Suze Rotolo (1943).
The 60th anniversary of the assassination of John F. Kennedy this week brought nine songs, from Jerry Lee Lewis to Lou Reed to Dylan's longest song ever — from his most recent album.
Here's the setlist:
Capital Radio, Nov. 20, 2023, 1 – 4:20 p.m., www.cygnusradio.com
"Capital Radio Two," The Clash
"Almost Thanksgiving Day," Graham Parker
"Thanksgiving Day," Ray Davies
"Come on Up to the House," Tom Waits
"I Thank You," Sam & Dave
"Be Thankful for What You Got," Beres Hammond
"Thank You Friends," Big Star
"Thank You," Bonnie Raitt
"Thank You," Ryan Adams
"Thank You Girl," The Beatles
"Thank You Too!" My Morning Jacket
"Thank You (Falettinme Be Mice Elf Agin)," Sly & the Family Stone 
"Thank You for Sending Me an Angel," Talking Heads
"Thanks for Yesterday," Eddie & Ernie
"Thanks for the Dance," Leonard Cohen
"Thanksgiving [live]," Loudon Wainwright III
"Thanks," James Gang
"Sahara," Mac Rebennack and his Orchestra
"I Walk on Guilded Spliters," Dr. John
"Mess Around," Dr. John
"Lookin' for a Leader 2020," Neil Young
"We Take Care of Our Own," Bruce Springsteen
"Hey Joe," The Leaves
"Road Song," David Byrne & Meredith Monk
"Midnight in a Perfect World," DJ Shadow
"Suze (The Cough Song)," Bob Dylan
"Ballad in Plain D," Bob Dylan
"Spirit in the Sky [demo]," Norman Greenbaum
"Ain't No Good to Cry," The Hour Glass
"Hey Jude," Wilson Pickett
"The Weight," Aretha Franklin
"Shake for Me," John Hammond
"Why Does Love got to Be So Sad?" Derek and the Dominos
"Don't Want You No More," The Allman Brothers Band
"Little Martha," The Allman Brothers Band
"President Kennedy," Ry Cooder
"He's a Mighty Good Leader," Beck
"He Was a Friend of Mine," The Byrds
"The Death of John Kennedy," The Southern Gospel Band
"Lincoln Limousine," Jerry Lee Lewis
"Sleeping In," The Postal Service
"The Day John Kennedy Died [live]," Lou Reed
"Murder Most Foul," Bob Dylan
"Abraham, Martin & John," Marvin Gaye
Capital Radio returns Nov. 27 at 1 p.m. ET at www.cygnusradio.com. Also available on the cygnusradio.com app, available free at iTunes or ApplePlay.