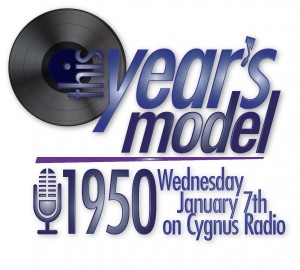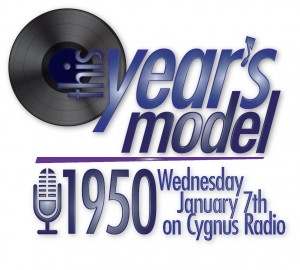 Technical woes kept me from making my official Cygnus debut last night, but I expect we'll get those resolved in time for 1951 next week!
The good news is that you can still listen to the set via the link above! I started with a half dozen songs from 1949, partially to set the stage, partially because they are such great tracks, and partially to avoid anything that felt like "filler" during the 1950 set. The early 50s, while I think I have a lot of great stuff, are not quite as easy to pull together as some of the later sets, where I could easily play 6 hours and feel like I was still leaving out something crucial.
Some of my choices for top artist this week would have to include:
Roy Brown He was basically Jackie Wilson long before there was such a thing as rock 'n' roll
Fats Domino We'll be hearing from him every year until 1960, at which point we start hearing from Otis Redding every week
Hank Williams It's kind of weirdly sweet to hear him playing a jingle for a radio show, in which he seems to sincerely hope that anyone who tunes in will enjoy themselves
Red Foley Somewhat unknown today, he was one of the best selling artists of his time. His contribution this week was one of the top five singles of the year, and next week, we'll hear from his sessions with the Andrews Sisters.
For extra credit, look up Stick McGhee's song on Wikipedia to find out why the original lyrics couldn't even be played on commercial radio today.
The list of what I played is below. Feel free to let me know my sins of omission. These sets are entirely subjective, and it's always fun to hear what other people would have added.
This Year's Model – 1950
01. Billie Holiday – Crazy He Calls Me*
02. Dave Brubeck Trio – Lullaby in Rhythm*
03. Jimmy Preston & His Prestonians – Rock the Joint*
04. Louis Jordan & His Tympany Five – Saturday Night Fish Fry, Parts 1 & 2*
05. Roy Brown – Boogie at Midnight*
06. Stick McGhee and His Buddies – Drinkin' Wine Spo-Dee-O-Dee*
07. John Lee Hooker – Wednesday Evening
08. Ames Brothers – Rag Mop
09. Dizzy Gillespie – On the Sunny Side of the Street
10. Frankie Laine – Cry of the Wild Goose
11. Anton Karas – Harry Lime Theme (Theme From The Third Man)
12. Fats Domino – The Fat Man
13. Ivory Joe Hunter – I Almost Lost My Mind
14. Hank Snow – I'm Moving On
15. Dave Barbour & His Orchestra – Mambo Jambo
16. Joe Fingers Carr – Sam's Song
17. The Johnny Otis Orchestra with Mel Walker & Little Esther Phillips – Cupid's Boogie
18. Percy Mayfield – Please Send Me Someone to Love
19. Roy Byrd & His Blues Jumpers – Bald Head
20. Louis Armstrong – C'est Si Bon
21. Ruth Brown – Teardrops From My Eyes
22. Teresa Brewer – Music! Music! Music!
23. Stan Getz – Crazy Chords
24. Tennessee Ernie Ford – Shotgun Boogie
25. Tiny Bradshaw – I'm Going to Have Myself a Ball
26. Patti Page – The Tennessee Waltz
27. Doc Pomus – Send for the Doctor
28. Kay Starr – Hoop Dee Doo
29. Ray Anthony & His Orchestra – Count Every Star
30. Peggy Lee & Mel Tormé – The Old Master Painter
31. Dozier Boys – You Got to Get It
32. Stan Getz – I've Got You Under My Skin
33. Les Paul – Nola
34. Benny Strong & His Orchestra – If I Knew You Were Comin', I'd've Baked A Cake
35. Muddy Waters – Rollin' and Tumblin' Part 1
36. Fats Domino – Hey! La Bas Boogie
37. Hank Williams – The Garden Spot Jingle
38. Hank Williams – Lovesick Blues
39. Red Foley – Chattanoogie Shoeshine Boy
40. Big Joe Turner – I'm Still In The Dark
41. Roy Brown – Love Don't Love Nobody
42. Jimmy Rogers – That's Alright
*Song was from 1949