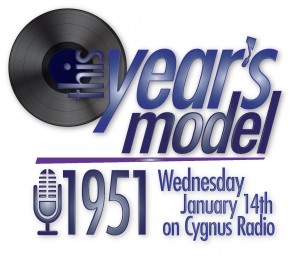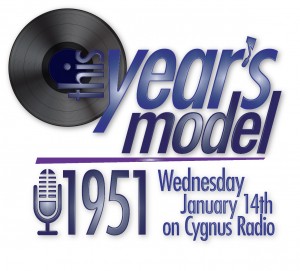 1951 is the beginning of having way too much music I want to play, so for the archive this week I've extended the set by an additional 16 songs. So much great stuff that just didn't fit due to time, so check it out at the link above!
Full track listing including the bonus stuff is below. As always, drop me a line through the site and let me know what you think!
*****
Noteworthy Notes:
Least clear on the concept: Elton Britt, who spends the entirety of "Rotation Blues" talking about how happy he is that rotation is coming up. Having a fabulous name and being good at yodeling is no excuse for misunderstanding that the blues should generally be about the things making you blue.
Most talented backup: I mentioned this during the broadcast, but The Dominoes had Clyde McPhatter singing in the background of their track this week. McPhatter would depart in 1953 and found the Drifters. When he left, his replacement in the Dominoes was Jackie Wilson.
Most easily mistaken for a drink order: Big Tom Collins. (Runner-up: Peppermint Harris)
Most effort no one can likely hear: Les Paul and Mary Ford claimed that their version of "How High the Moon" features 16 different guitar tracks, accompanying 16 different vocal tracks.
Extra Credit: Head over to http://en.wikipedia.org/wiki/Rufus_Thomas and read about how Rufus Thomas is the only artist to ever debut in the top ten after their daughter did so. His daughter Carla would first chart at age nineteen in 1961, while Rufus first made the cut in 1963. Thanksgiving 1962 must have been a lot of fun at the Thomas house.
*****
This Year's Model 1951
01. Little Red Rooster – Margie Day
02. I Know – Ruth Brown
03. I've Got Eyes For You – Fats Domino
04. Rockin' With Fes – Roy Byrd
05. How Many More Years – Howlin' Wolf
06. Down Yonder – Del Wood
07. Undecided – The Ames Brothers
08. Uncle Pen – Bill Monroe
09. Step It Up and Go – Big Jeff
10. Chica Boo – Lloyd Glenn
11. I Got Loaded – Peppermint Harris
12. Indiana – Dave Brubeck
13. Shanghai – Doris Day
14. The Hot Guitar – Eddie Hill
15. Alabama Jubilee – Red Foley
16. Telephone Blues – Floyd Dixon
17. Long Distance Call – Muddy Waters
18. Rotation Blues – Elton Britt
19. Rockin' Blues – Johnny Otis & His Orchestra
20. Glory of Love – The Five Keys
21. Fool, Fool, Fool – The Clovers
22. My Truly, Truly Fair – Guy Mitchell
23. Electricity – Jimmy Murphy
24. Hey Good Lookin' – Hank Williams
25. Honky Tonk Hardwood Floor – Jess Willard
26. Black Night – Charles Brown
27. Pink Champagne – Joe Liggins
28. Queen Bee – John Lee Hooker
29. No More Doggin' Around – Rufus Thomas
30. Chew Tabacco Rag – Zeb Turner
31. Poison Love – Johnnie & Jack
32. Sick, Sober & Sorry – Johnny Bond
33. Watchin' My Stuff – Big Tom Collins
34. I Will Wait – The Four Buddies
35. Sixty Minute Man – The Dominoes
36. Joy, Joy To My Soul – Sam Cooke & the Soul Stirrers
37. Tend To Your Business – Wee Willie Wayne
38. Eyesight to the Blind – The Larks
39. The Chill is On – Big Joe Turner
40. Howlin' Tomcat – Harmonica Frank
41. I Was Sorta Wonderin' – Moon Mullican
42. Bloodshot Eyes – Wynonie Harris
43. Lemonade – Louis Jordan
44. How High the Moon – Les Paul and Mary Ford
45. Rocket 88 – Jackie Brenston & His Delta Cats
BONUS (available in the archive only)
46. Dr. Ross' Boogie – Dr. Isaiah Ross
47. Always Late (With Your Kisses) – Lefty Frizzell
48. Flamingo – Earl Bostic
49. Walkin' The Chalk Line – Tiny Bradshaw
50. Go Go Go – The Treniers
51. Castle Rock – Johnny Hodges
52. Little Joe's Boogie – Joe Liggins
53. Bad Bad Whiskey – Amos Milburn
54. Let's Live a Little – Carl Smith
55. The Rhumba Boogie – Hank Snow
56. Just Out Of Reach (Of My Two Open Arms) – The Stewart Family
57. I'm Just Tired of Waiting For You – Lucky Millinder & His Orchestra
58. T99 Blues – Jimmy "T99" Nelson
59. Rockin' With Red – Piano Red
60. Slow Poke – Pee Wee King & His Cowboys
61. Mockin' Bird Hill – Russ Morgan
These are a real treat to play. Thanks for your ears!