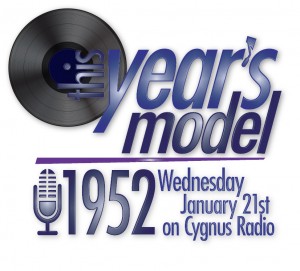 1952 is a coiling snake, stretching out to infinity. It's not just a year. It's endless.
*****
See, what happened was that I tried a different method for pulling tracks, and ended up with several hours too much music. Unlike my normal method, I was then in a position of trying to cut perfectly good music. The result is that I still had over four hours when I started my set, and I shuffled here and there, went a little long with the live broadcast, added over an hour of bonus content for the archive, and still have a few dozen songs which easily could have been good additions to the set tonight.
*****
My folly is hopefully your gain: if you feel like hunkering down and wading through the 77 tracks in the archive, it's a fairly rewarding trip.
Not many special notes this week, since I'm much later than usual getting this post completed. I will say that we have debuts this week from Little Richard, Ray Charles, The Carter Sisters, Bill Haley, Lloyd Price, Miles Davis, Elmore James and a bunch of hopefully familiar artists and songs. For me, hearing these earlier versions of songs like "Hound Dog," "Baby Please Don't Go," and "The Train Kept A-Rollin'" are special treats.
Hope you enjoy 1952, and don't forget to drop me a comment to let me know what you're digging about the series so far.
*****
This Year's Model 1952
01. Greyhound – Amos Milburn
02. Dust My Broom – Elmore James
03. Hound Dog – Big Mama Thornton
04. Mary Joe – The Four Blazes
05. Easy, Easy Baby – Varetta Dillard
06. Have Mercy Baby – The Dominoes
07. Midnight Hour – Ray Charles
08. Wheel of Fortune – Dinah Washington
09. The Train Kept A-Rollin' – Tiny Bradshaw
10. One Mint Julep – The Clovers
11. It's A Blue World – The Four Freshmen
12. Rock The Joint – Bill Haley
13. Lawdy Miss Clawdy – Lloyd Price
14. Chance It – Miles Davis
15. Lovin' Machine – Wynonie Harris
16. Till I Waltz Again With You – Teresa Brewer
17. Botch A Me – Rosemary Clooney
18. Baby Please Don't Go – The Orioles
19. I'm Gonna Play the Honky Tonks – Marie Adams
20. The Chill Is On – Big Joe Turner with Van Walls
21. It Ain't The Meat – The Swallows
22. 3 O'Clock Blues – B.B. King
23. Rock Around the Clock – Wally Mercer
24. Got You On My Mind – John Greer
25. Bye-Ya – Thelonious Monk
26. Why Don't You Eat Where You Slept Last Night? – Zuzu Bollin
27. I Only Have Eyes For You – Billie Holiday
28. Nani Aliemtia Bure – Shabani Adbullah & the Dar-Es-Salaam Jazz Band
29. Don't Let the Stars (Get In Your Eyes) – Slim Whillet & The Brush Cutters
30. Great Big Eyes – Archibald
31. Raw Hide – Bill Monroe
32. Good Lovin' – Bobby Bland
33. Poor Poor Me – Fats Domino
34. Ain't Nothing Happening – Little Richard
35. I Can't Lose With The Stuff I Use – Lester Williams
36. Big Ten Inch – Bull Moose Jackson
37. Juke Box Blues – Carter Sisters
File Under: Boogie
38. Ice Worm Boogie – Douglas Lewis
39. Okie Boogie – Ella Mae Morse
40. Sand Boogie – Bob Newman
41. Blackberry Boogie – Tennessee Ernie Ford
42. Tokyo Boogie – Moon Mullican
43. Wine Wine Woogie – Marvin Phillips & His Men From Mars
44. Walkin' The Boogie – John Lee Hooker
45. T.T. Boogie – Charlie Adams
46. Hadacillin Boogie – Hank Penny
47. Saddie Boogie – Merrill Moore
48. Dripper's Boogie – Joe Liggins
49. All Nite Boogie – Tommy Sosbee
BONUS MUSIC (available in the archive only)
50. Honky Tonk Blues – Hank Williams
51. Midnight – Red Foley
52. Lover – Peggy Lee
53. Night Train – Jimmy Forrest
54. Pachuko Hop – Chuck Higgins
55. Daddy Daddy – Ruth Brown
56. Feelin' Low – Cowboy Copas
57. School Days – Dizzy Gillespie
58. Portrait (Take 1) – Charles Mingus
59. Diesel Smoke – Doye O'Dell
60. Almost – George Morgan
61. Certainly All – Guitar Slim
62. Come Back Home – Howlin' Wolf
63. Bumming Around – Jimmie Dean
64. Two Little Girls – Jimmy Witherspoon
65. It Won't Be Very Long – Sam Cooke & The Soul Stirrers
66. Ashes of Love – Johnnie
67. It Wasn't God Who Made Honky Tonk Angels – Kitty Wells
68. The Mocking Bird – The Four Lads
69. Bye Bye Blues – Les Paul and Mary Ford
70. Kansas City – Little Willie Littlefield
71. They Locked God Outside the Iron Curtain – Little Jimmy Dickens
72. Give Me More, More, More (Of Your Kisses) – Lefty Frizzell
73. Juke – Little Walter
74. No Help Wanted – Maddox Brothers & Rose
75. Cry – Johnnie Ray & The Four Lads
76. Move on In And Stay – Ray Price
77. Rock Me All Night Long – The Ravens