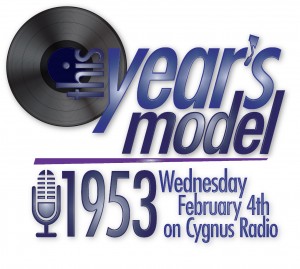 After a week's delay for computer issues, 1953 did not disappoint. There were a ton of great tunes from relatively obscure stuff to all time classics like "Sh-Boom," "Mess Around" and "Your Cheatin' Heart." Once again, we have a ton of bonus material in the archive that didn't make the proper set. A sign of what a good week it was is how many of the archive tracks could easily have been highlights in the live set, including Ray Anthony's "Dragnet" and the inadvertent baseball team double of the Royals and the Orioles.
Notes:
Most Belabored Sexual Metaphor: Dinah Washington, T.V.'s the Thing (This Year).
At Best, Third Best: Tommy Duncan's version of "Hound Dog."
Eh, Why Not: I failed to notice that "KC Lovin'" by Little Willie Littlefield was also played for 1952 under a different name. Great song, though.
Working Backwards: I first heard "Istanbul"—like most of my generation—as performed by They Might Be Giants. It's weird how I never noticed how much that song borrows from "Puttin' On The Ritz" until I heard the earlier version played here. Also, for a long time, I only knew who Johnny Ace was from a Paul Simon song, and didn't know if was a real guy.
This Year's Model 1953
01. Work With Me Annie – Hand Ballard & the Midnighters
02. Let Me Go Home, Whiskey – Amos Milburn
03. Going to the River – Fats Domino
04. Stormy Weather – Billie Holiday
05. Sing Sing Sing – The Andrews Sisters
06. T.V. Is The Thing (This Year) – Dinah Washington
07. Crazy, Man, Crazy – Bill Haley & The Comets
08. (I'm Your) Hoochie Coochie Man – Muddy Waters
09. I Feel So Bad – Chuck Willis
10. My Happiness – Elvis Presley
11. Goin' Steady – Faron Young
12. No Help Wanted – The Carlisles
13. No Help Wanted #2 – Red Foley & Ernest Tubb
14. You All Come – Arlie Duff
15. C'Est Si Bon – Eartha Kitt
16. Istanbul – The Four Lads
17. Little Richard's Boogie – Little Richard with the Johnny Otis Orchestra
18. Honey Hush – Big Joe Turner
19. Mystery Train – Little Junior's Blue Flames
20. Please Love Me – B.B. King & His Orchestra
21. Sh-Boom – The Chords
22. Mess Around – Ray Charles
23. Come and Go to that Land – Sam Cooke & The Soul Stirrers
24. Hey Joe! – Carl Smith
25. Dim Lights, Thick Smoke (And Loud, Loud Music) – Joe & Rose Lee Maphis
26. Shake A Hand – Faye Adams
27. Country Gentleman – Chet Akins
28. Your Cheatin' Heart – Hank WIlliams
29. The Death of Hank Williams – Jack Cardwell
30. Let Me Be The One – Hank Locklin
31. Laughing But Crying – Roy Brown
32. Riot in Cell Block #9 – The Robins
33. A Dandy Line – Chet Baker
34. Good Lovin' – The Clovers
35. Money Honey – Clyde McPhatter & The Drifers
36. Hound Dog – Tommy Duncan
37. K.C. Lovin – Little Willie Littlefield
38. A Dear John Letter – Jean Shepard & Ferlin Husky
39. Things I Used To Do – Guitar Slim
40. Love Me or Leave Me – Peggy Lee
41. Baptize Me in Wine – Screamin' Jay Hawkins
42. I'm Gone – Shirley & Lee
43. The Clock – Johnny Ace
44. Rock House Boogie – John Lee Hooker
Bonus Material!
45. Cry Cry Darling – Jimmy Newman
46. California Blues (Blue Yodel #4) – Lefty Frizzell
47. Vaya Con Dios – Les Paul & Mary Ford
48. I'll Go On Alone – Marty Robbins
49. Run 'em Off – Onie Wheeler
50. Ricochet – Theresa Brewer
51. Dragnet – Ray Anthony
52. Baby Don't Do It – The 5 Royales
53. Get It – The Royals
54. Crying In The Chapel – The Orioles
55. Gonna Hop On Down The Line – Ralph Willis
56. I Wanna Know – The Du Droppers
57. Red Light – Merrill Moore
58. Playin' Dominoes and Shootin' Dice – Red Cook
59. Little Things We Used To Do – Stick McGhee
60. Catfish Boogie – Tennessee Ernie Ford
61. It's Been So Long – Webb Pierce
62. Marie – The Four Tunes
63. Drunk – Jimmy Liggins