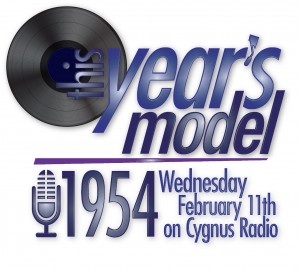 Harry Belafonte unlocks the spiritual lurking in the folk tune "John Henry" and Thelonious Monk unlocks something great in "Just A Gigolo." A couple more timeless doo-wop records and 1954 takes shape as a fascinating, eclectic year.
With Bill Haley's "Rock Around the Clock," we're fast running out of reasons to call this the pre-rock era. So naturally, I snuck in a bit more jazz this week, and the tracks from Dave Brubeck, Thelonious Monk, Dizzy Gillespie and Miles Davis are definitely among the set's highlights.
1954 is otherwise another weird melange of honky tonk and stomping R&B, with some popular hits sprinkled her and there for taste.
I'm lucky to be able to do this and have some listeners who care about these sets. Thanks very much, internet.
Notable Notes:
Most Surprisingly Badass Organ Solo: "Mambo Italiano" It's a stomper, which is partially surprising merely for being in an otherwise goofy Rosemary Clooney tune.
Most Not About Potatoes: This a hard category this week, since so far as I know, none of the songs are about potatoes, but I'm still giving this one to "Idaho Red" from the bonus section.
Most Still Active: B.B. King is the only artist from tonight's set (and the last two sets, to boot) who I know is still recording music. He appeared a few months ago on that tribute to Paul McCartney. Wanda Jackson had something out in 2011, and I think Fats Domino toured recently, which isn't bad at all considering the songs tonight are over 60 years old.
Most On the Nose As A Closer: "Goodnite, Sweetheart, Goodnite" by the Spaniels is a pretty perfect way to end the live portion of the broadcast.
Most Apostrophes: "If You Ain't Lovin' (You Ain't Livin')" by Faron Young
Most About to Be Better Known for Other Things: Sheb Wooley, who would record the novelty hit "Purple People Eater" in 1958 and appear as an actor on Rawhide and Hee Haw. You'll have to wait four more weeks to find out that I'm not going to be playing "Purple People Eater." Wooley also taught Roger Miller his first guitar chords.
No Relation: Kitty Wells
This Year's Model 1954
01. I'm Just Your Fool – Buddy & Ella Johnson
02. Shake, Rattle And Roll – Big Joe Turner
03. Rock Around the Clock – Bill Haley & The Comets
04. Looking Back to See – The Browns
05. You Better Not Do That – Tommy Collins
06. Saving My Love For You – Johnny Ace
07. Stormy Weather – Charles Mingus
08. What A Little Moonlight Can Do – Billie Holiday
09. Hearts of Stone – The Charms
10. A Fine Romance – Dave Brubeck Quartet
11. All of Me – Frank Sinatra
12. Blue Moon of Kentucky – Elvis Presley
13. Jock-A-Mo – Sugar Boy Crawford
14. True Love Goes On and On – The Chordettes
15. John Henry – Harry Belafonte
16. It Should Have Been Me – Ray Charles
17. If You Know What I Know – Wanda Jackson
18. Jump Children – Dave Bartholomew
19. Gotta Boogie – John Lee Hooker
20. You Upset Me Baby – B.B. King
21. Such A Night – Clyde McPhatter & The Drifters
22. Gee – The Crows
23. I Didn't Want To Do It – The Spiders
24. Sincerely – The Moonglows
25. Oop Shoop – Shirley Gunter & The Queens
26. That's All Right – Elvis Presley
27. Bimbo – Jim Reeves
28. One By One – Red Foley & Kitty Wells
29. Good Deal, Lucille – Al Terry
30. If You Ain't Lovin' (You Ain't Livin') – Faron Young
31. Loose Talk – Carl Smith
32. All Night Long – Joe Houston
33. Contraste – Dizzy Gillespie
34. I Do – The 5 Royales
35. Evil Is Goin' On – Howlin' Wolf
36. Mambo Italiano – Rosemary Clooney
37. Just A Gigolo – Thelonius Monk
38. I Closed My Heart's Door – Roy Acuff
39. Where Did You Stay? – Fats Domino
40. He'll Make A Way – Sam Cooke & The Soul Stirrers
41. I Found My Way to Wine – Screamin' Jay Hawkins
42. Black Diamond – Roy Brown
43. Oh Baby Mine (I Get So Lonely) – Johnnie & Jack
44. I'll Be There (If You Ever Want Me) – Ray Price
45. Skokiaan – Ray Anthony
46. Goodnite, Sweetheart, Goodnite – The Spaniels
Bonus Material
47. I'm A Fool to Care – Les Paul & Mary Ford
48. Too Hot to Handle – Sonny Burns
49. The Wiggle Waggle Woo – Stick McGhee
50. I Wouldn't Change You If I Could – Carl Butler
51. Truck Drivin' Man – Terry Fell
52. Idaho Red – Wade Ray
53. This Ole House – Stuart Hamblen
54. Man With The Banjo – The Ames Brothers
55. Blue Guitar – Sheb Wooley
56. Let Me Go Lover – Teresa Brewer
57. I'll Be True – Faye Adams
58. Sparkling Brown Eyes – The Wilburn Brothers
59. Slowly – Webb Pierce
60. Cry, Cry Darling – Jimmy C. Newman
61. Doxy – Miles Davis